A workbench only becomes truly multifunctional and useful when a workbench vise is installed. In combination with a hole grid, T-track rails and various bench dogs and hold-down clamps, there are clamping possibilities for just about any workpiece.
* = Affiliate Links /Advertising
As an amazon associate i earn from qualifying purchases.
Workbench upgrades – How to find the right woodworking vise!
The first part of my new "Upgrades for a Workbench" blog series is the workbench vise, because only the installation of front vise makes the workbench really perfect and multifunctional.
When choosing the right workbench vise, you should ask yourself the following question:
Which type of a vise do I need?
I thought long about which type to buy and finally decided against the classic wooden spindle vices. Since my DIY workbench is relatively thick and massive, you need a front vice that is constructed like an L-shape. This can then be attached to the sturdy workbench very easily and without much effort.
The classic wooden spindle vices on the other hand would need a massive cut-out in the workbench. This means way more effort and less flexibility for the future. What if you want to change the vise sometime in the future? Other dimensions? I'm happy I decided to go with the L-shape woodworking vice out of metal. It's unbelievably sturdy and works just way too well!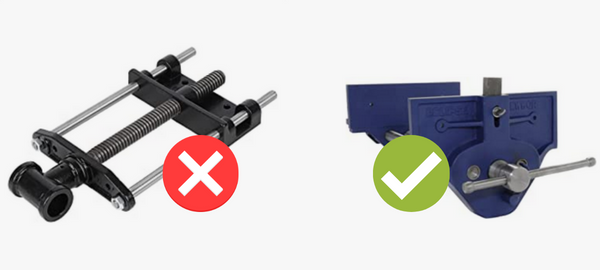 Of course it's up to you. The classic constructed woodworking vises are just fine but I wanted to keep the installation on my workbench quick and simple. That's the reason I went with the type on the right.
What clamping width is required for a workbench vise?
The maximum clamping width specified by the manufacturers for the front vise may be reduced by the wooden blocks to be mounted! The thickness of the wooden blocks again depends on whether bench dogs are going to be used in the wooden block. And if so, which kind? All this leads to thicker or thinner wooden blocks and reduces the maximum clamping width of the workbench vise.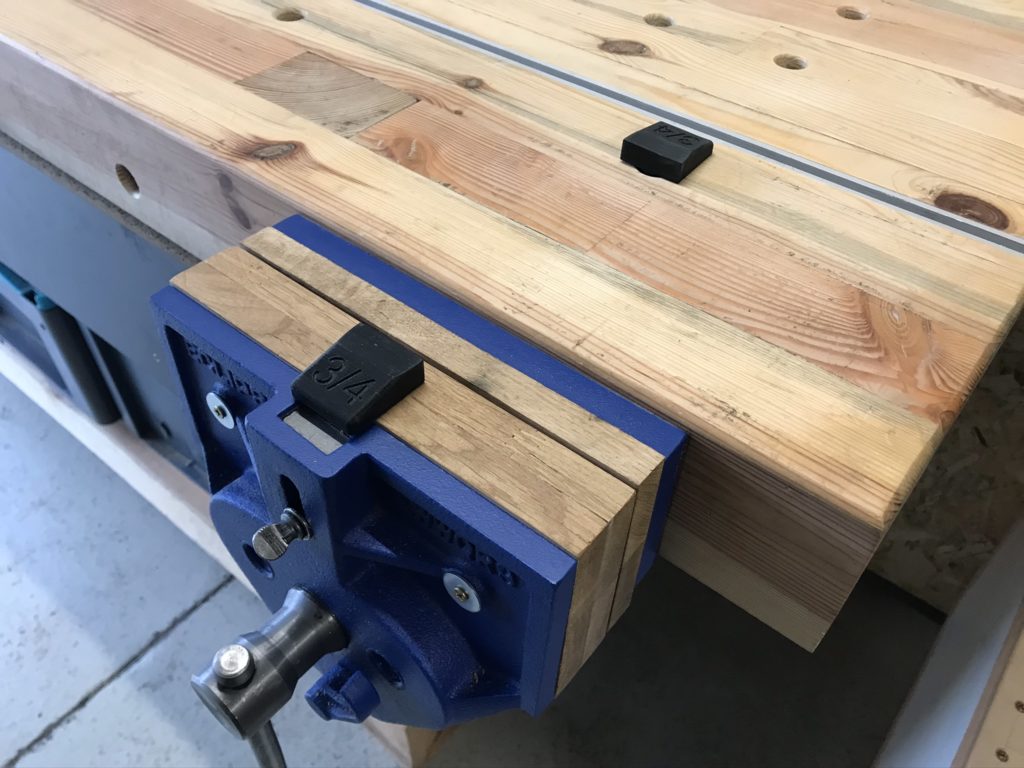 Only when you know exactly what you want should you compare price and other features.
In the following comparison, you will find an overview of the most important features of common front tongs in different price ranges. If you have built a workbench yourself, a front clamp is extremely important and adds a lot of value to the workbench. In my project for building a workbench yourself, you will find detailed instructions on how to build a workbench with simple tools. You can add even more value to it with a pair of front tongs. I hope that this comparison will help you to make your purchase decision!
Of course, you can also find the right instructions for installing a front clamp in your workbench here:
Which Woodworking Vise To Buy? Best Woodworking Vise?
In my opinion the following woodworking vises are the best when these requirementes are equally important: price, quality, sturdiness. So this is my recommendaten of the best workbench vises:
I recommend to buy a metal Woodworking Vice with a quick release mechanism*. Those are just working extraordinary well and are extremely strong.
What else do I need to pay attention to?
In addition to the budget, it is of course also important for the selection of the right front clamp which workpieces you want to clamp there. You should pay particular attention to the clamping width when choosing the right front clamp or vice.
The width of the jaws is also an important factor in choosing the right front tongs. However, you can increase the jaw width yourself by mounting wider, solid wooden blocks. This criterion is therefore less important than the clamping width.
You can find more workbench front pliers and vises on amazon*.